Brothers and Sisters in Christ,
On July 2nd, 2017, four out of five brethren from the U.S. headed to Ghana to conduct the 3rd semi-annual Minister and Deacons Conference in Kumasi, Ghana. The American Brothers who participated in the conference included: Elder Jeffrey Elliott, Brother Todd Reynolds, Elder Justin Farris, Elder Jonathon Elliott, and Elder Bradley Hicks. Our plan was to arrive in Ghana and immediately conduct revivals in the mission works surrounding Kumasi for two days, hold the conference for three days, and then separate and hold revivals in the various churches in Ghana. Despite a few minor setbacks, God allowed us to carry out this plan and have many memorable experiences along the way. Over the next few blogs I hope to describe the overall status of the mission work in Ghana, detail specific experiences from our trip which made an impression on me, outline recent changes in the mission work, and hear from some of the other brethren about their experiences on the trip and impressions of the work in Ghana.
Our trip to Ghana, though long, was thankfully uneventful. Both of the Elliotts and myself met Brother Justin Farris in Atlanta, where we traveled through Amsterdam and then arrived in Accra, Ghana at approximately 8:00 p.m. July 3rd. We immediately left the airport and traveled to Kumasi by bus, arriving at our final destination at approximately 2 a.m. July 4th. After arriving, we got some much needed rest and prepared for revival services that night at Ebenezer Missionary Baptist Church and Hemang Mission, both located just outside of Kumasi.
Ebenezer Missionary Baptist Church is located in a small community called Bonwire and is home to the craft of weaving kente cloth. Ebenezer is one of the oldest Missionary Baptist Churches in Ghana and is faithfully served by their hardworking pastor, Brother Kojo Ampong. Currently Brother Ricky White from Lafayette Missionary Baptist Church is leading an effort to construct a well at Ebenezer Church. He is working in conjunction with the Rotary Club and hopes to begin the task soon. While I was in Kumasi, I was able to learn that they usually dig the well with shovels as deep as 90 feet. Digging the well by hand allows them to perform routine maintenance easier than digging them with heavy equipment. Once this well is dug, it will provide water for the church and an opportunity to serve the surrounding community. Brother Jonathon Elliott and Brother Justin Farris attended Ebenezer church the first night of revival where numerous people were said to have been seeking the Lord following the message by Brother Elliott.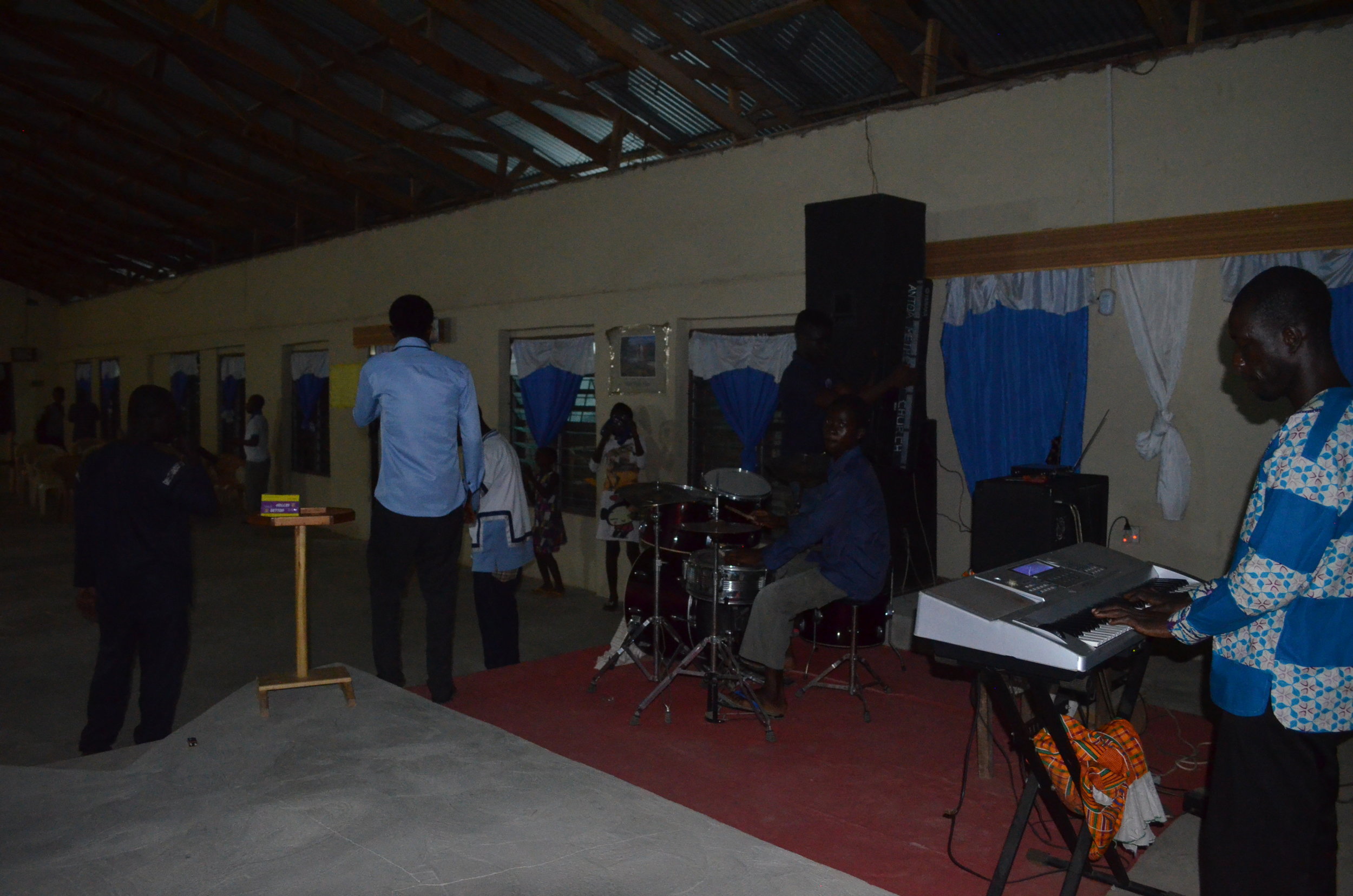 The Hemang Mission is led by Brother Michael Akani, son of Deacon Ransom Akani from Mt. Zion Missionary Baptist Church (in Kumasi where Brother Samuel Sekyere serves as pastor). It is currently meeting in a school and has approximately 25 people in attendance. The first night of revival Brother Jeff Elliott and I attended the mission where I was happy to see a lady who had been saved the previous year, and who I learned was baptized shortly after our departure last year.
After some beautiful African songs, I preached with Brother Samuel Sekyere serving as my interpreter. Following the message, about 5 people began seeking the Lord for salvation. We later came to learn that one gave a testimony of having been saved on either this night or the following.
The second night of revival Brother Todd Reynolds (son of Jerry and Ann Reynolds) joined us in Kumasi. I invited Brother Todd to travel to Ghana and help teach at the Minister and Deacons Conference in large part because of his continued support of the school in Cape Coast, Ghana. Brother Todd was a great addition to our group and taught two wonderful lessons at the conference. Upon his arrival, Brother Todd, Brother Justin, and I, immediately left for Ebenezer while both of the Elliotts attended the Hemang mission. In both services, people sought the Lord but no testimonies of salvation were given.
We concluded both revival meetings on Wednesday Night, encouraged that Ebenezer church and the mission work were seeing constant, healthy growth since the previous year and that a lady who had been saved the previous year was baptized into Mt. Zion and faithfully serving at the mission. Please specifically pray for the mission work to find a permanent building if it is the Lord's will and that the well at Ebenezer would be completed soon.
In our next blog I will talk about the Minister and Deacons Conference, and the various doctrinal questions which were addressed.
God Bless,
Bradley S. Hicks